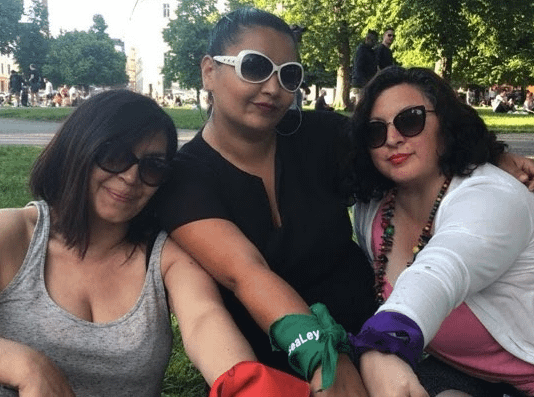 Las Pañuelas is an interdisciplinary arts collective where art and feminism converge in a multi-expressive proposal where they position themselves as proprietrixes of their own desire. Las Pañuelas thus open spaces where Erotic Power saves us from a useless death.
Francisca Jimenez (34): Startup Consultant. MSc in Business, Major in Strategy (2019) Handelshøyskolen BI. BA Business administration, specialization in International Business (2017). Bachelor's degree Pedagogy and Acting (2009). ESL Language Instructor – Teaching English as a Second Language.
Yanina Lopez (55): Social Scientist UiB (2000), MA Spanish and sociolinguistics. Published author «Piezas Urbanas» (2018), Plays «Lynet» (2017), « 500 år senere» (1992). Co/authored « Bares y cantinas» (2015), Script adaptation «Vuelos en el mar» by Valeria Varas, (2016).
Lexie Koren (40): MA Psychotherapy (Integrative Arts), Bachelor TV Broadcast Journalism, Bsc Major Spanish and Latin American Studies, Minor Theatre Studies, Cert.Couns, Dip.AATE, Diploma in Sexology. Trained actress, London Academy Drama School, London International School of Performing Arts and Acting International, Studio D'Acteurs, Paris.